Home | About Us | Programs | Peace Book | Peace Exhibit | Peace Quilt | Feedback | Contact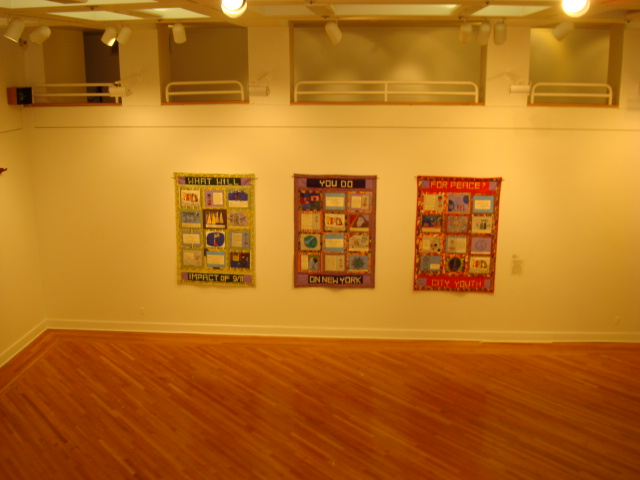 Peace Story Quilt at Godwin Museum, Queens College, City University of New York
Peace Story Quilt Exhibit
The Peace Story Quilt composed of three panels, each measuring 72"x 50," was designed by young New Yorkers in collaboration with Harlem visual artist, Faith Ringgold, and continues on its healing journey across New York City and beyond.
Gallery requirements: 16 feet (wall space)
View: Peace Quilt's Itinerary
Peace QuiltMaking Workshop
IRC's Peace Quilt Workshops are offered at conferences, community organizations, schools, universities, and museums. These workshops are conducted at elementary, middle school, high school, college, graduate, and professional levels. Peace Quilt Workshops are facilitated in collaboration with visual arts educator, Patricia Maunder, who works with Faith Ringgold's arts organization. Workshop participants collaboratively design their own story quilt (using acrylic on canvas) which permanently remains at their educational institution. (Workshops are also implemented for educational and human service professionals working with multicultural populations.)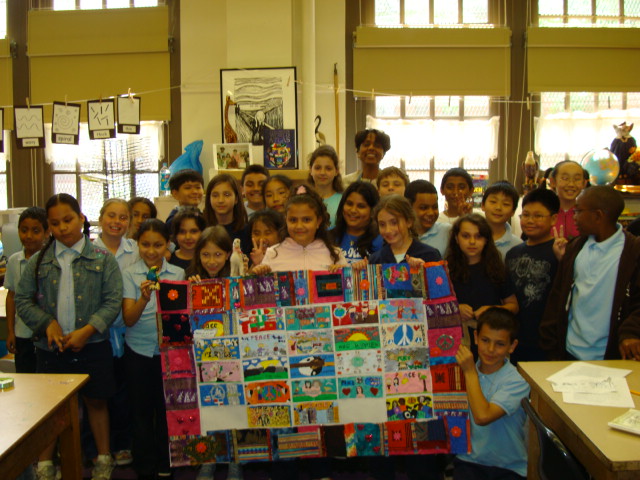 PS 108, Bronx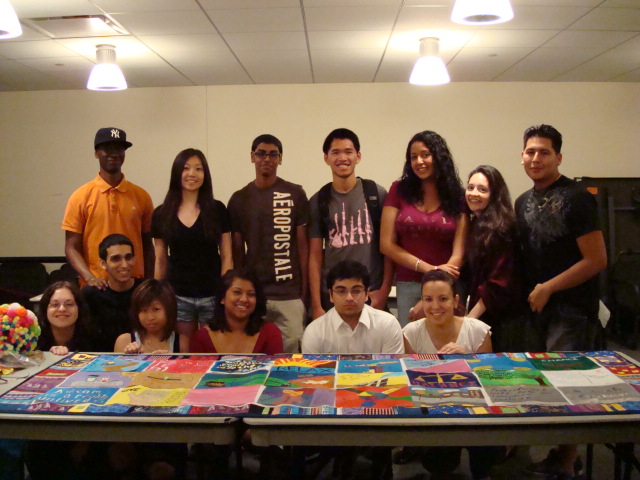 Baruch College, CUNY
Yale Divinity School
Peace SongWriting Workshops
At IRC's Peace Song Workshops, participants compose both lyrics and score for their own Peace Song. Their Peace Song is professionally recorded in a state-of-the-art music studio and performed "live" in concert at a celebratory educational or community event. IRC's Peace SongWriting Workshops are facilitated in collaboration with Jim Papoulis, award-winning NYC composer, conductor, and music arts educator of Sounds Of A Better World.
If you would like to exhibit IRC's Peace Story Quilt or host a Peace Quilt Workshop or Peace Song Workshop at your community organization, conference, school, university, or museum, please Contact Us
Peace Poster Exhibit
If you are interested in displaying original Peace Art published in the book, What Will You Do For Peace? Impact of 9/11 on New York City Youth, for educational purposes, Contact Us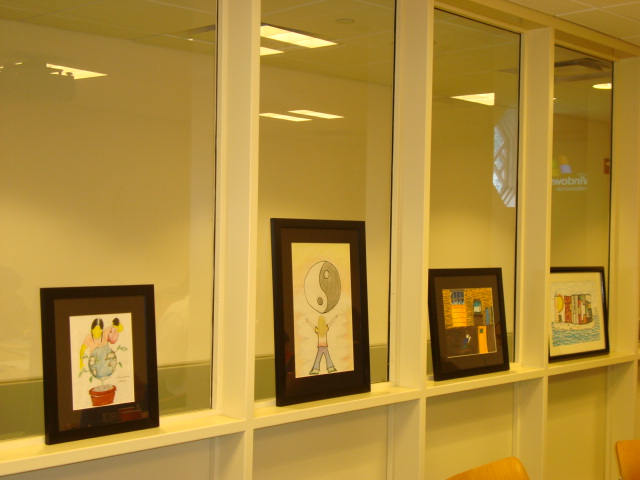 Yale Divinity School
See: New York Daily News
---
Copyright © 1997-2023 InterRelations Collaborative, Inc. All rights reserved.